PADDLE BOARD & KAYAK RENTALS
Welcome to Lake Gaston Outfitters rental kayaks and paddleboards! We have the largest rental fleet in the region with over 40 boats and boards available! We renew our fleet every year– no old or beat up gear here, and our gear isn't your basic "livery" rental gear - we only rent premium, comfortable, stable, kayaks and paddleboards from brands like Perception, SIC and Blue Water.
We have a variety of rental options to make your kayak and paddle board adventure on the lake the best it can be. We offer Sit-on, Sit-in, and tandem rental kayaks – and these are not the typical model you'll find at livery outlets or big box stores. We rent the best kayaks Perception has to offer – comfortable and stable – and we complement them with paddles from Aqua-Bound. Regardless of the kayak or paddleboard you rent, you're certain to have a great time on the lake.
Rental kayaks & paddleboards from Lake Gaston Outfitters are unique in that our location is centrally located on Eaton Ferry Road between the lake and Food Lion. Whether you're in Jimmy's Creek, River Ridge, Norcarva, Lee's Creek, one of the campgrounds, or any place in between, our rentals are just a short drive away.
Our rental inflatable Stand Up Paddle Boards get you out on the water easily & quickly. Our boards are wide with a planing hull design for a nice stable ride on the lake and are super durable and easy to transport. Or, if transporting isn't a challenge, opt for a SIC hardboard - all our boards are light weight and family/guest friendly. Never worry about a damaging fiberglass board again! We not only match a premium AquaBound SUP paddle with each board, but for your safety we also include a leash and life vest with each rental.

We have decades of experience on the water and we share our knowledge with every rental - We want you to have an amazing paddle out on Lake Gaston, so we take the time to review all the adjustments in your kayak & paddle as demonstrate great paddling techniques. We love paddling on the lake and want you to the best time while you're here!
Please note we rent kayaks and paddle boards by the day. Rentals can be picked up when we open and must be returned before the store closes on the last day of your rental. Late returns will incur additional charges. Don't hesitate to contact us if you need alternate pick-up and drop-off arrangements.
And if the warmer weather has your family dreaming of paddling a kayak around Lake Gaston, we've rounded up the top places to abandon your dock for awesome water exploration! From the gorgeous kayak launch at Steel Bridge to many back creek explorations around the lake, check out all the local places to play here.
RENTAL PRICES & RESERVATIONS
| | | | |
| --- | --- | --- | --- |
| Rental | Day 1 | Multi-day Discount | Delivery |
| Paddle Boards | $65 | available | available* |
| Solo Kayaks | $65 | available | available* |
| Tandem Kayaks | $75 | available | available* |
All of our kayaks include a paddle & PFD (life vest). Our stand up paddleboards include a paddle, leash & vest, and our inflatable paddleboards also include an inflation pump & carry bag.
Not sure which rental is best for you? Need delivery? Just give us a call at 252-586-1770, send us an email or reach out to us on facebook – we're here to help!
*Delivery is available most times but note holiday weeks we often have limited delivery available. Delivery fee includes drop off & pick up, and varies based on distance from the store. We do not deliver to public boat ramps. Deliveries are made the evening prior to the start of the rental period and are picked up the evening of the last day of rental. Contact us with any questions (252) 586-1770. Not sure which kayak to choose? Here are some examples of our new, 2021 rental kayaks:
The Perception Joyride 10.0 kayak's stable and forgiving 10-foot design makes it a favorite for beginners to intermediates. The sit-in design protects from the elements and lowers the kayak's center of gravity for enhanced stability. The shorter length and light weight make it easy to transport and maneuver as you explore Lake Gaston's coves & creeks.
---
The Perception Prodigy 12.0 kayak's stable and forgiving 12-foot longer length remains maneuverable while adding capacity, speed and stability as you explore Lake Gaston. Full days are a joy thanks to spacious dry storage and the deluxe comfort of a six-way adjustable seat with padded adjustable leg support.
---
Perception Tribe series of sit-on-top kayaks are defined by their ultra-stable, yet quick and playful performance. The entire family will appreciate how easy it is to get on and off the stable sit-on-top Tribe 9.5. The shorter length and lighter weight eases transport and increases maneuverability.
---
The Tribe 11.5 kayak's versatile 11-foot-6 larger size maintains the maneuverability of its smaller sibling while adding speed, storage, and stability. Featuring an extra-padded and adjustable seat, the Tribe 11.5 is ready for full days exploring the lake.
---
Just the two of you? The Perception Cove tandem kayak is a comfortable and exceptionally versatile two-seater that's well-equipped for adventure. Fun for beginners to intermediates, the boat's do-it-all design makes easy work of paddling the lake. This kayak's versatile 14-foot-6 design offers exceptional stability and performance that makes paddling fun for the entire family. The super cushy ergonomic seats quickly adjust to fit everyone in the family, while the extra-roomy cockpit with padded leg support along the edge is easy to get in and out of and gives you the freedom to relax on the water.
---
Bringing the family? The Tribe 13.5T tandem kayak's versatile 13-foot-6 design means the entire family will appreciate how easy it is to get on and off this stable sit-on-top and the added jump seat provides the perfect perch for a child or dog. The large, two-person design maintains the maneuverability of its smaller siblings, while adding stability. Factor in the ample storage and extra-padded adjustable seats and the Tribe is ready for full days exploring the lake.
---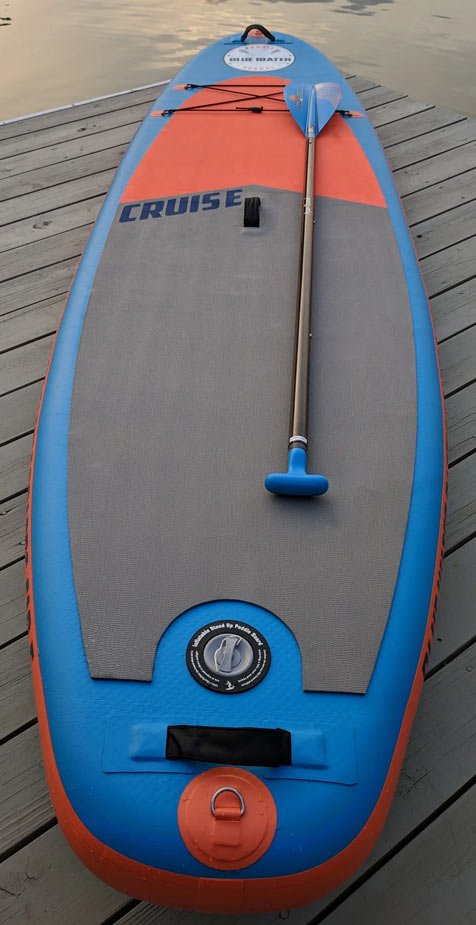 Paddleboarding? Our Blue Water Paddleboards are inflatable meaning they are easy to put in your vehicle and hard as a rock when inflated! The lightweight 10-6 x 32 planing hull design creates a very stable ride for the entire family and all your guests.

And check out our hardboards featuring the SIC Tao Fit board that's super stable, family friendly and has tons of glide for all day fun on Lake Gaston.